Les sites de plongée / Diving sites
---
Après avoir équipé votre matériel au ponton de la plage de EASO entre deux observations de tortues vertes, vous embarquerez à bord pour une navigation de 30 minutes.

Situés au nord-ouest de LIFOU, à l'extérieur de la grande Baie du Santal, les sites de plongée sont à l'abri du vent dominant vous permettant des mises à l'eau confortables.

LIFOU ne bénéficiant pas d'un lagon, les sites se trouvent à quelques dizaines de mètres de la côte.

Dans une eau très claire, vous serez émerveillés par la richesse des fonds sous-marins, de la faune et de la flore.

After having equipped your equipment at the EASO beach pontoon between two sightings of green turtles, you will embark on board for a 30-minute navigation.

Located northwest of LIFOU, outside the great Bay of Sandalwood, the dive sites are sheltered from the prevailing wind allowing you comfortable launching.

LIFOU does not benefit from a lagoon, the sites are a few tens of meters from the coast.

In very clear water, you will be amazed by the richness of the underwater world, the fauna and the flora.
--- Gorgone Reef ---
C'est un endroit unique : un énorme pinnacle affleurant la surface et plongeant vers 30 mètres de fond. De la surface, on devine les formes colorées en mouvement ; fusiliers, poissons-demoiselles, poissons-papillons, carangues.

Une vie sous-marine d'une grande densité séjourne autour de ce massif.

C'est à la présence de gorgones géantes et richement colorées que le site doit son nom. On peut y apercevoir requin-léopard, raie manta du récif et océanique, requins gris, thons à dents de chien.

It is a unique place: a huge pinnacle flush with the surface and diving 30 meters deep.

From the surface, we can see the colored shapes moving;

riflemen, fish-damsels, butterfly fish, jacks.





A high density underwater life stays around this massif.





It is the presence of giant and richly colored gorgonians that the site owes its name.

You can see leopard sharks, reef manta rays, oceanic sharks, gray sharks, dog-tooth tunas.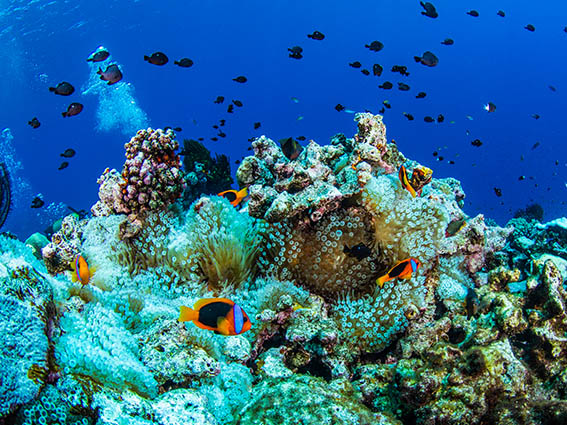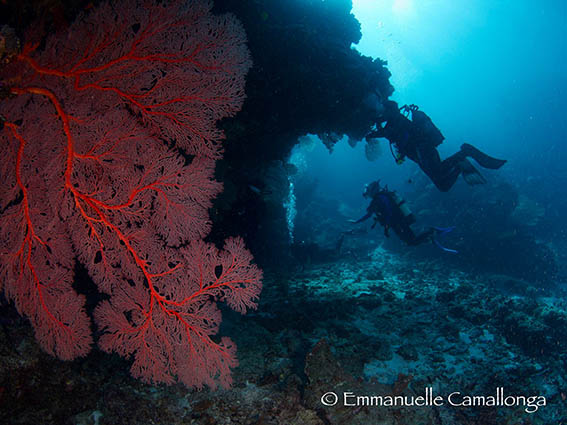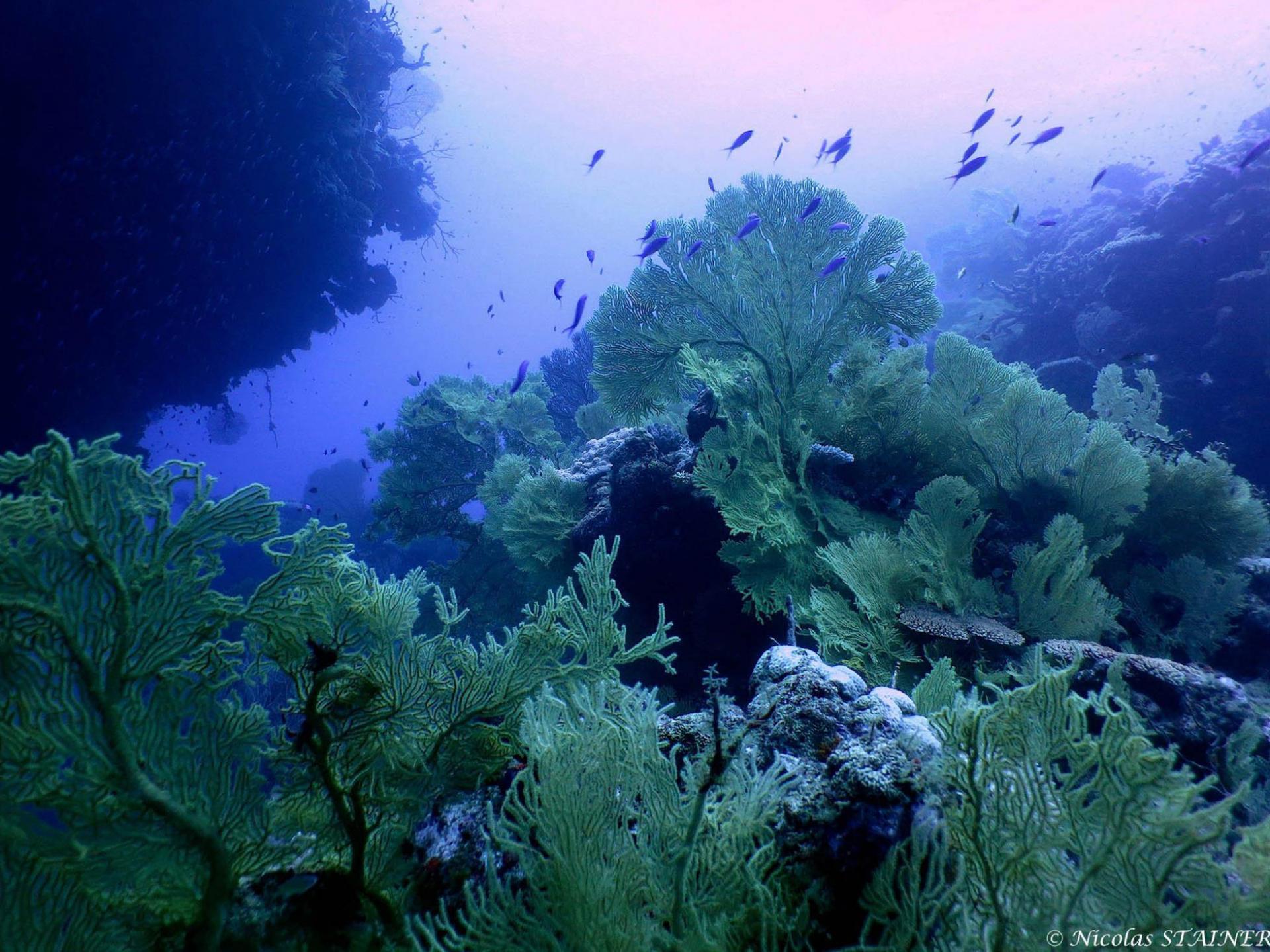 --- L'Arche ---
Un large massif affleurant également la surface à quelques mètres du platier abrite des bancs de poissons : fusiliers, demoiselles, lantaniers noirs, perches de minuit, carangues sont au rendez-vous. Un très large passage à 15 mètres de profondeur vous permettra d'accéder au tombant pour y observer requins gris de récif et autres poissons de passage. Cette arche est fournie de gorgones, d'éponges jaunes vif, de nudibranches et abrite des apogons à l'envers croyant que le plafond de la voûte s'apparente au fond.

A large massif also flush with the surface a few meters from the flat contains schools of fish: riflemen, damsels, black lantaniers, midnight perches, jacks are at the rendezvous.

A very large passage at 15 meters depth will allow you to access the wall to observe gray sharks reef and other fish passage.

This arch is furnished with gorgonians, bright yellow sponges, nudibranchs and shelters apogons upside down believing that the ceiling of the vault resembles the bottom.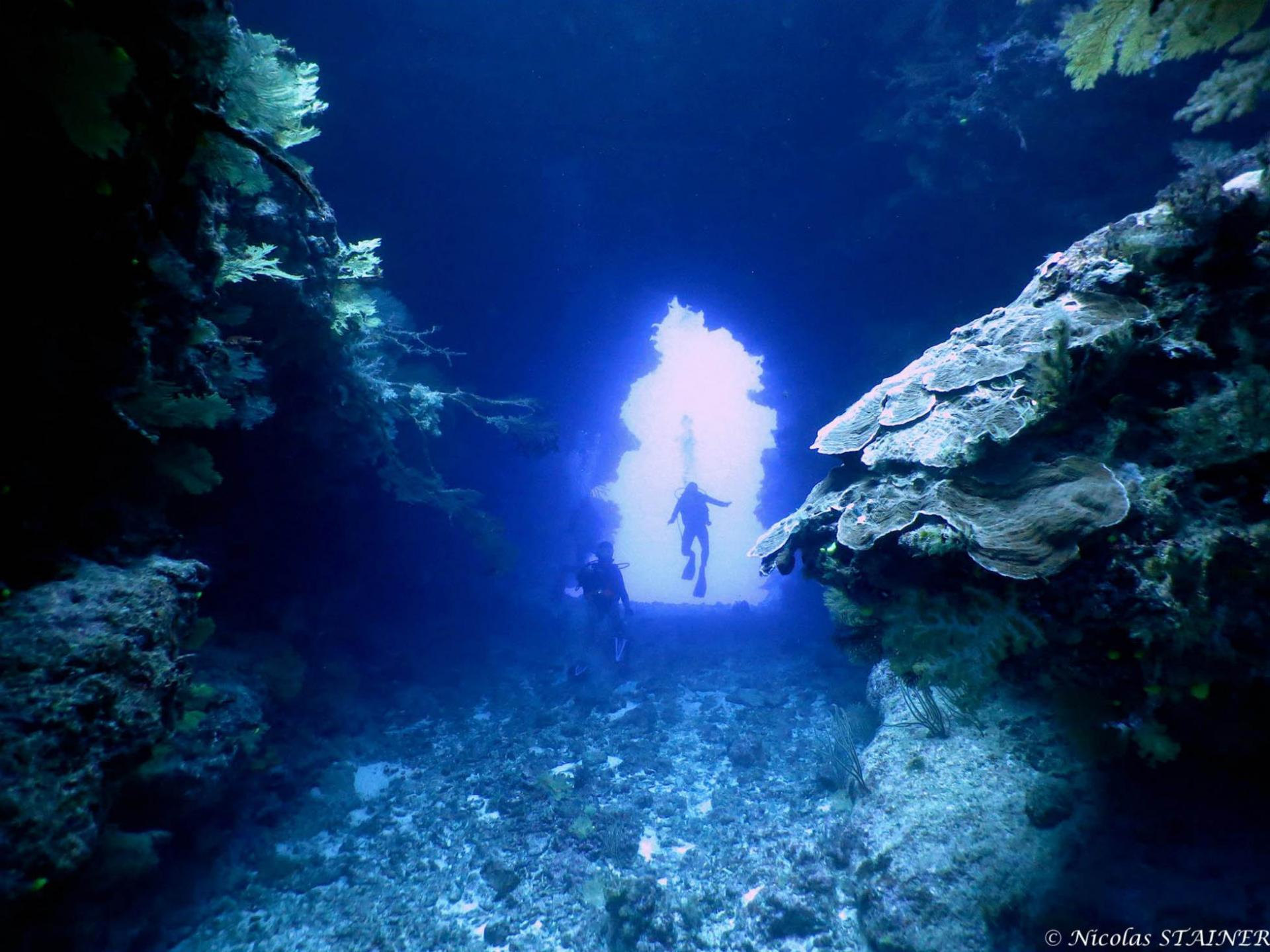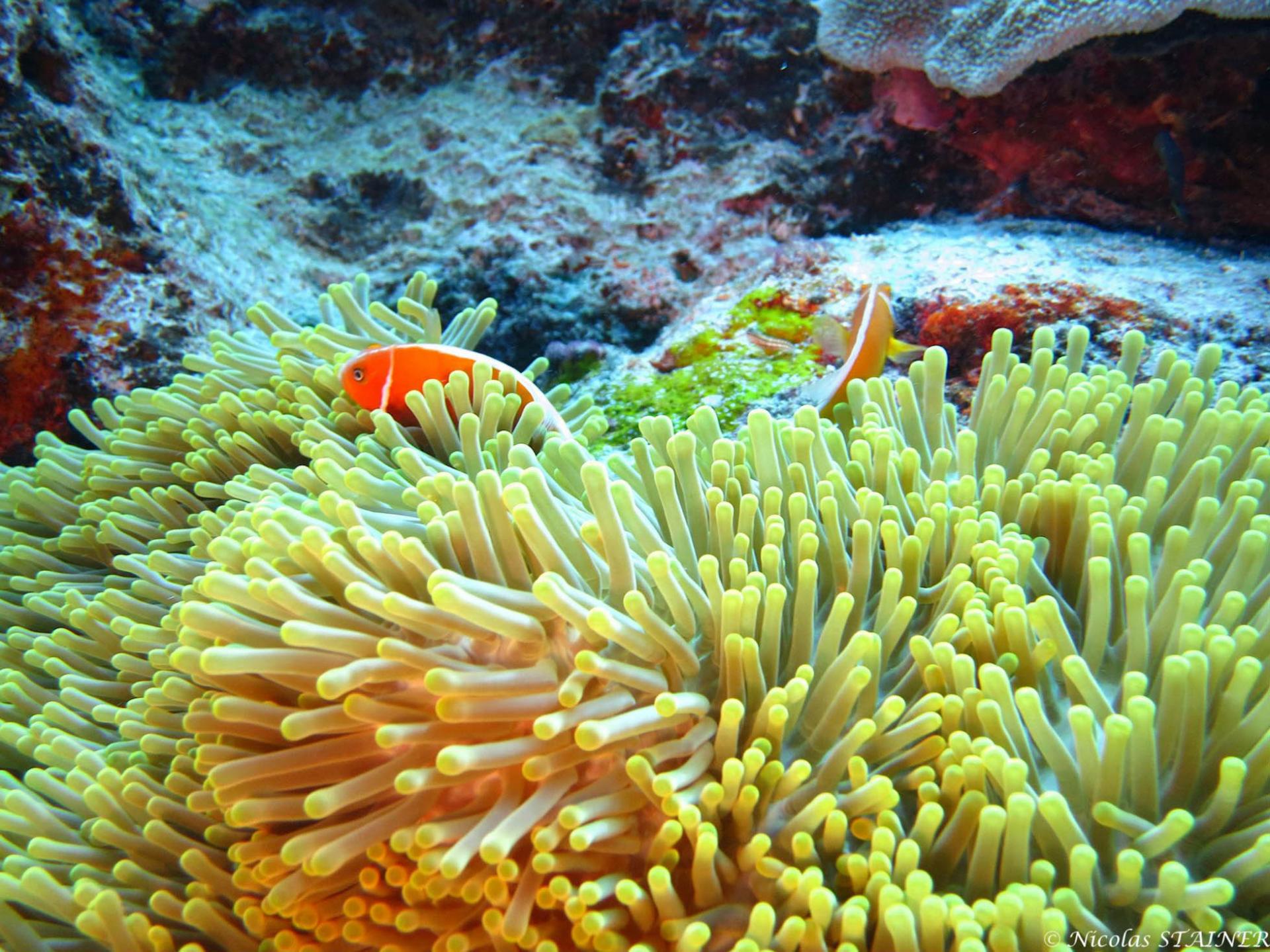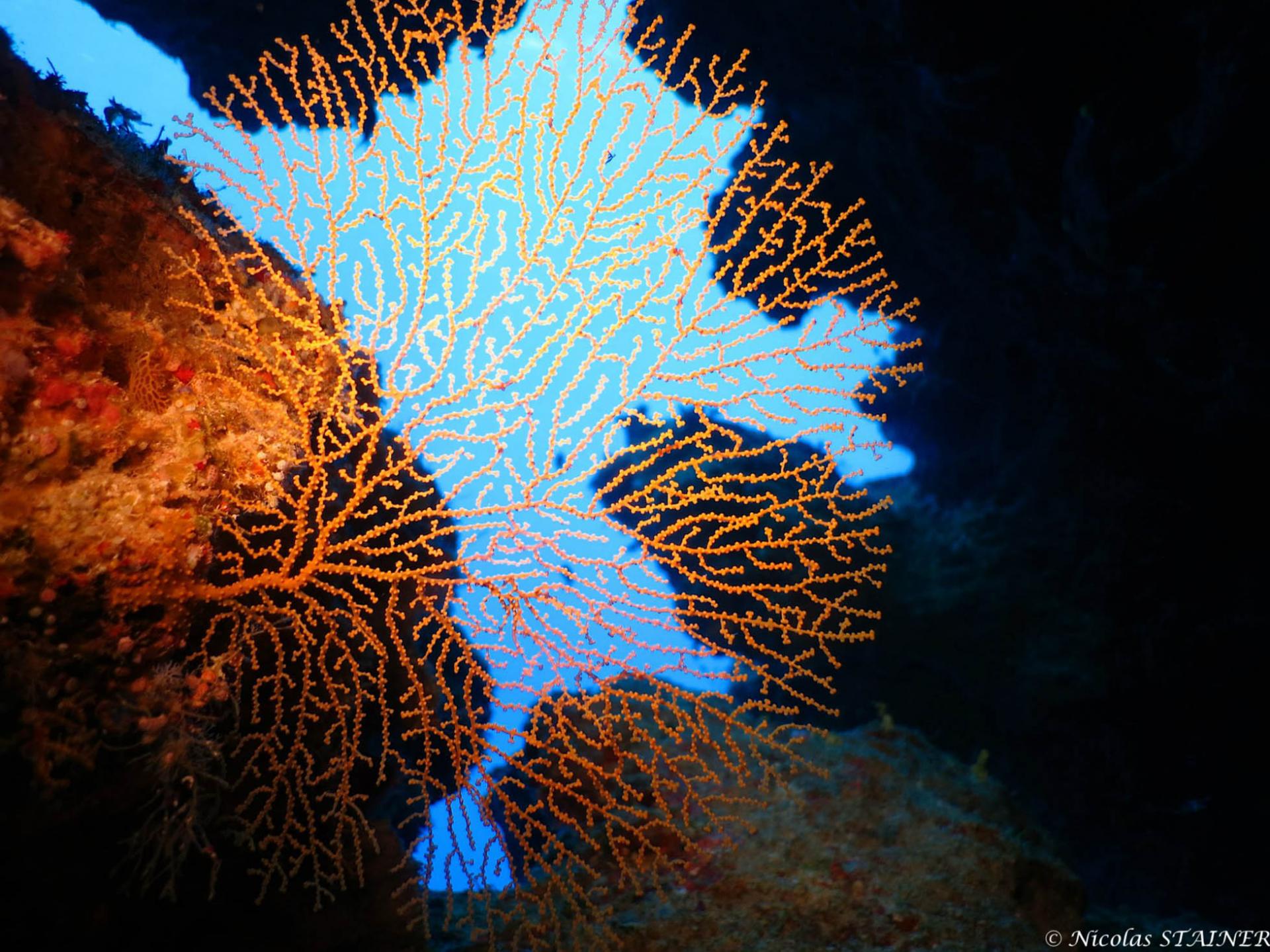 --- Tomoko ---
Une plongée inoubliable ! Après avoir longé un tombant, vous allez être immergés à faible profondeur sous le platier dont le plafond est partiellement ouvert laissant passer des puits de lumière sur les gorgones jaunes, oranges et vertes. Les poissons hachettes y forment des rideaux argentés brillant à la lumière. Ils vous laisseront passer pour observer les langoustes dans un tunnel partiellement obscur.

An unforgettable dive!

After skirting a drop-off, you will be submerged to shallow depths under the platier whose ceiling is partially open, allowing skylights to pass over the yellow, orange and green sea fans.

The hatchet fish form silver curtains shining in the light.

They will let you pass to observe the lobsters in a partially dark tunnel.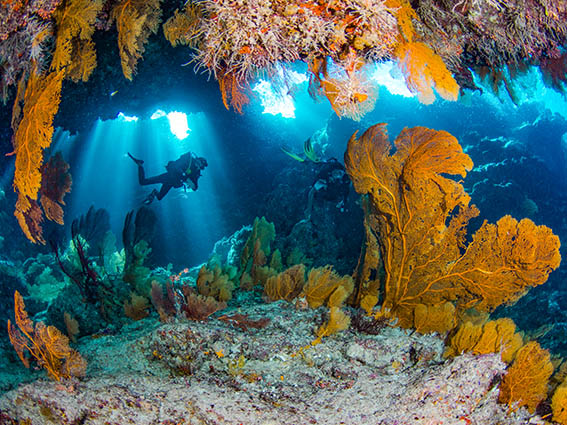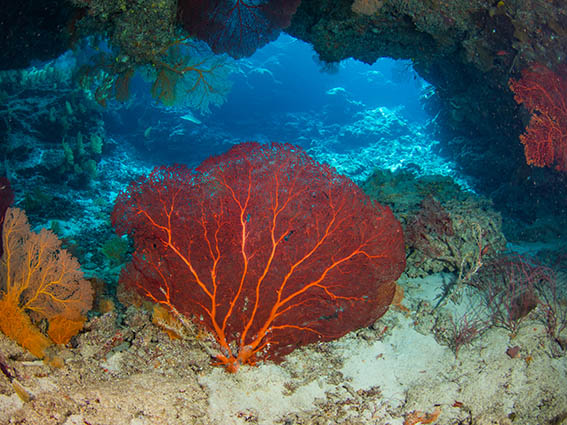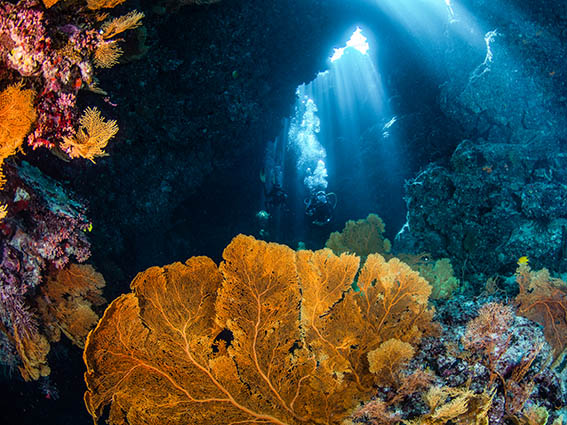 ---Sojhi ou la Valée des Gorgones ---
Laissez-vous porter par le courant à une vingtaine de mètres de profondeur au milieu d'une immense vallée de gorgones de toutes les couleurs, toutes les tailles et de formes différentes. Le tout dans une eau limpide vous permettant d'apercevoir des bancs de barracudas, requins gris, carangues, requin-léopard et parfois requins-marteaux. Ce site est d'une richesse absolue, parfois difficile d'accès tellement le courant y est fort.

Let yourself be carried by the current about twenty meters deep in the middle of a huge valley of gorgonians of all colors, all sizes and shapes.

All in clear water allowing you to see schools of barracudas, gray sharks, trevallies, leopard sharks and sometimes hammerhead sharks.

This site is an absolute wealth, sometimes difficult to access so the current is strong.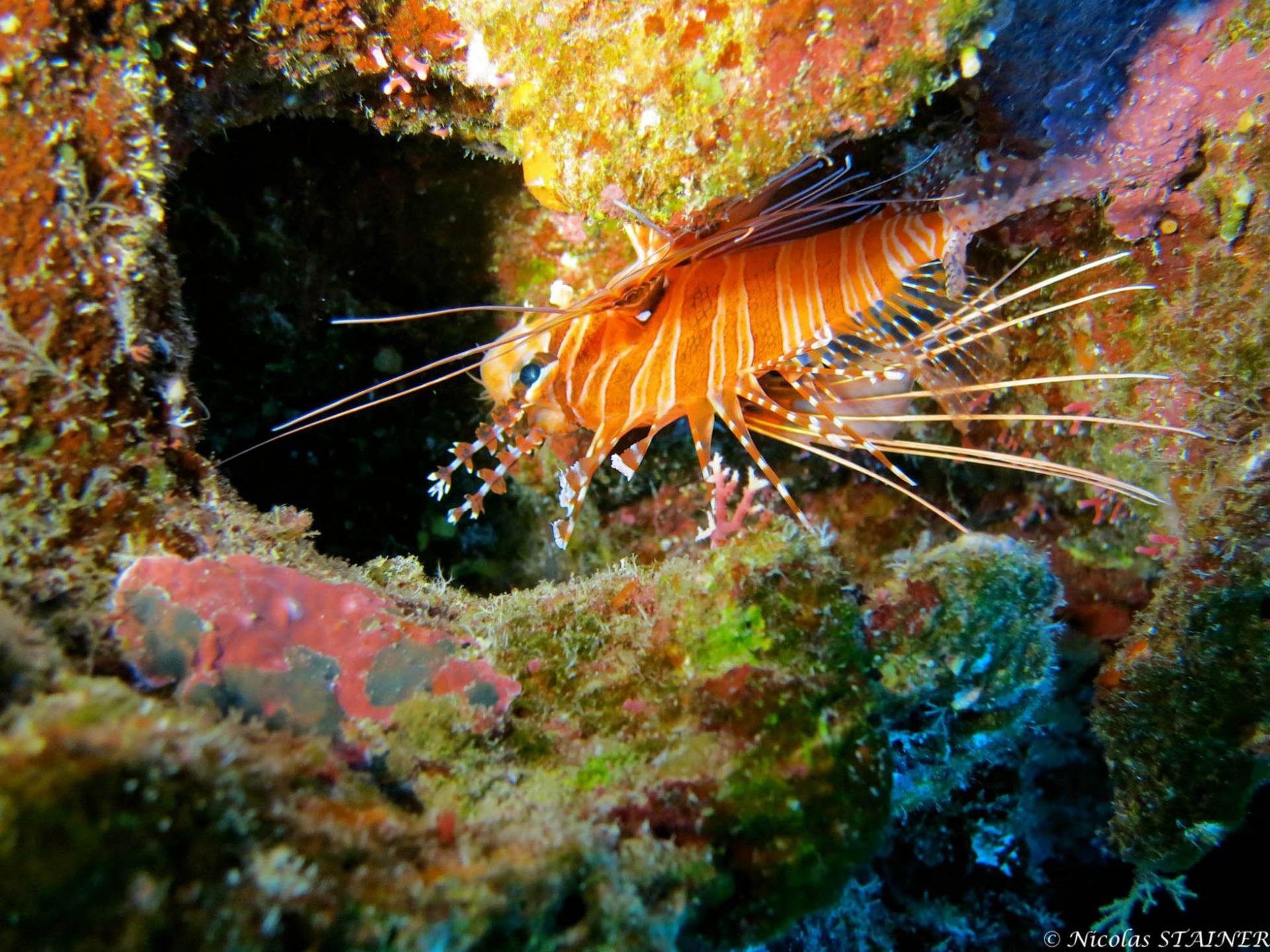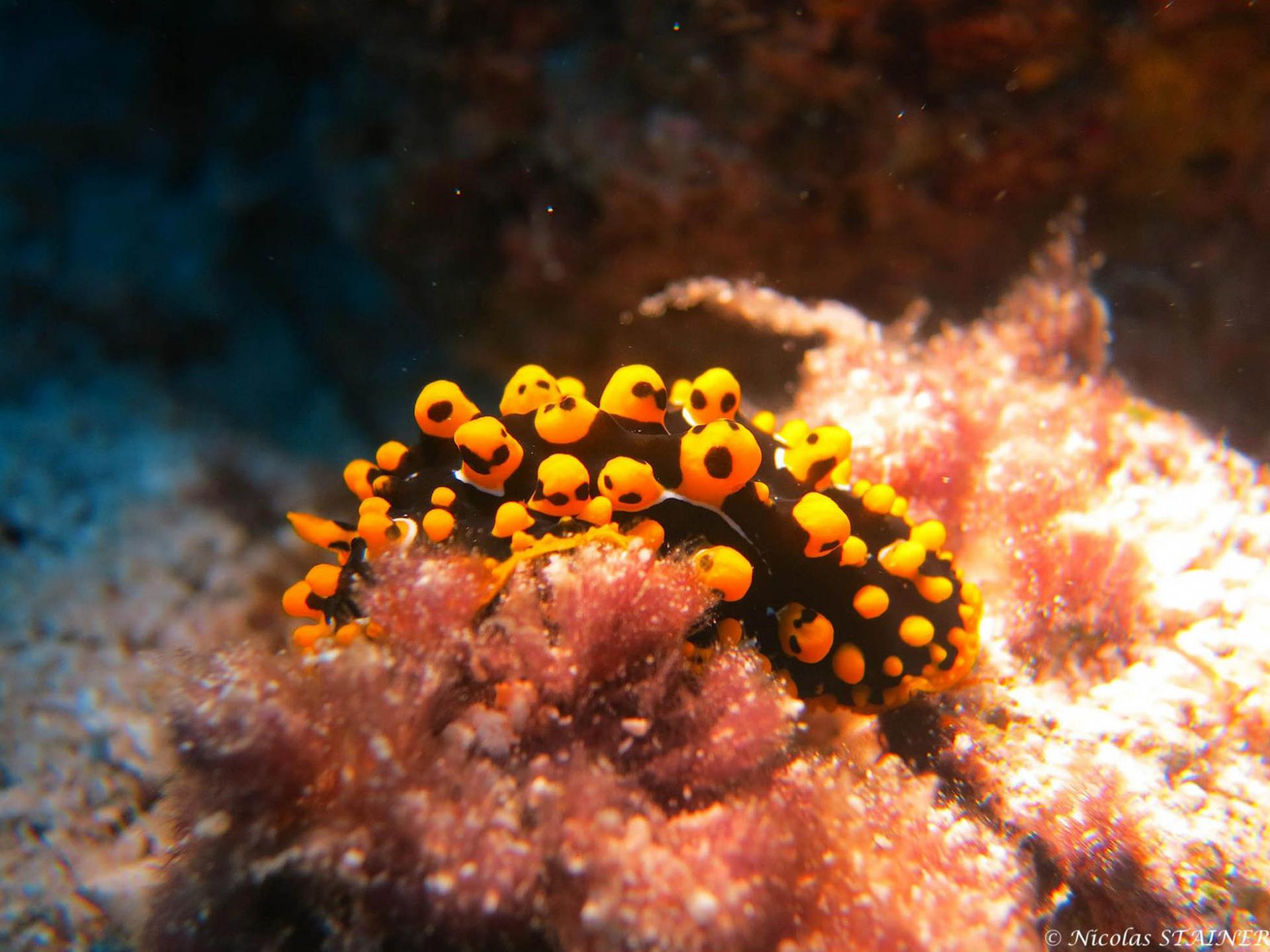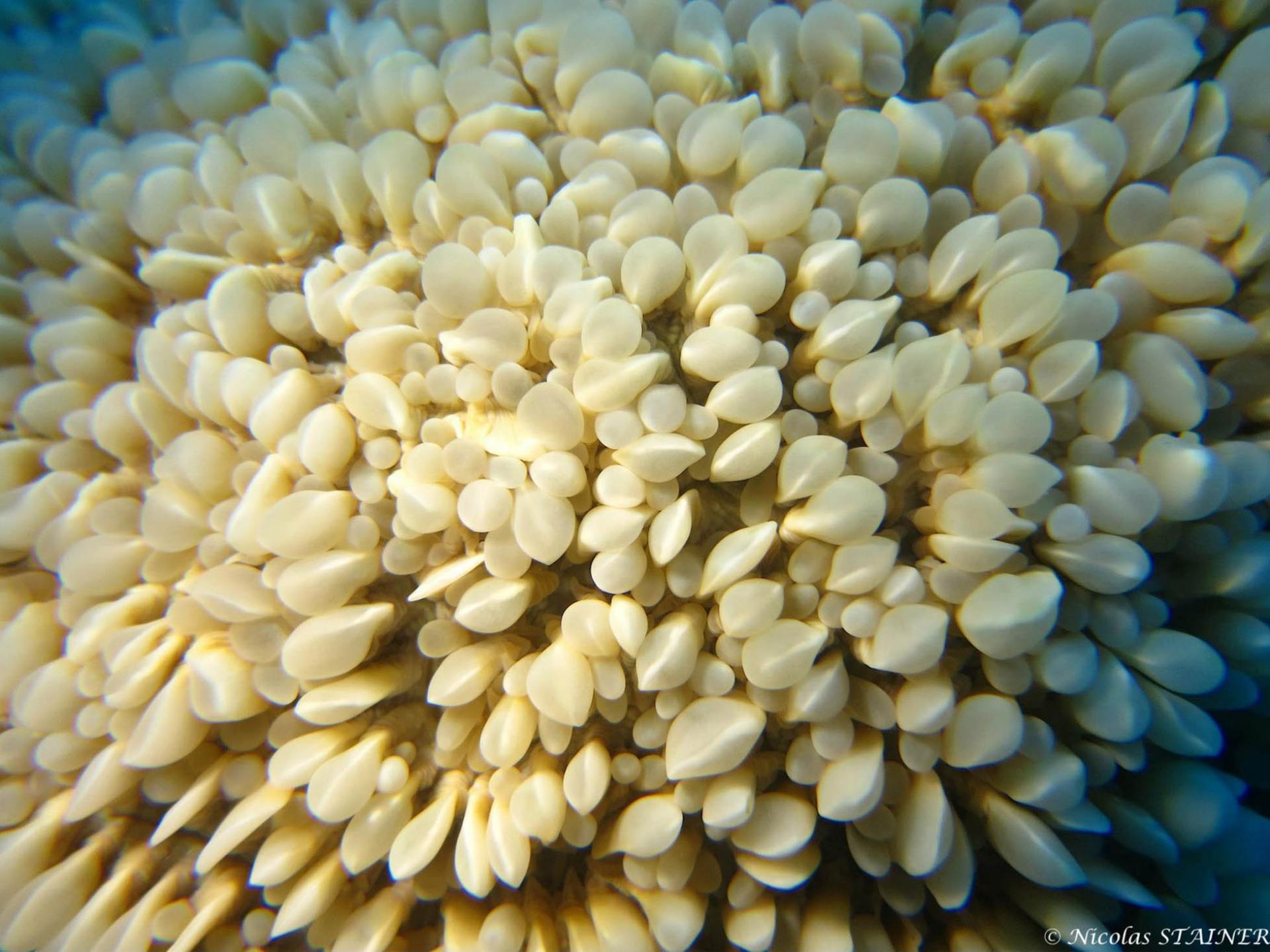 --- Alcyonnaire ---
La grande diversité des coraux mous que l'on peut apercevoir sur ce massif situé à l'écart de la côte lui a conféré son nom. Rajoutez une multitude de poissons- demoiselles bleus, des poissons-papillons, des bancs de platax et de carangues, des requins gris et vous ne serez où donner de la tête. De nombreuses gorgones rouges, oranges arborent ce massif très coloré, souvent exposé au courant.

The great diversity of soft corals that can be seen on this massif located off the coast has given it its name.

Add a multitude of blue damselflies, butterflyfish, schools of batfish and jacks, gray sharks and you will not be able to nod.

Many red gorgonians, oranges sport this very colorful massif, often exposed to the current.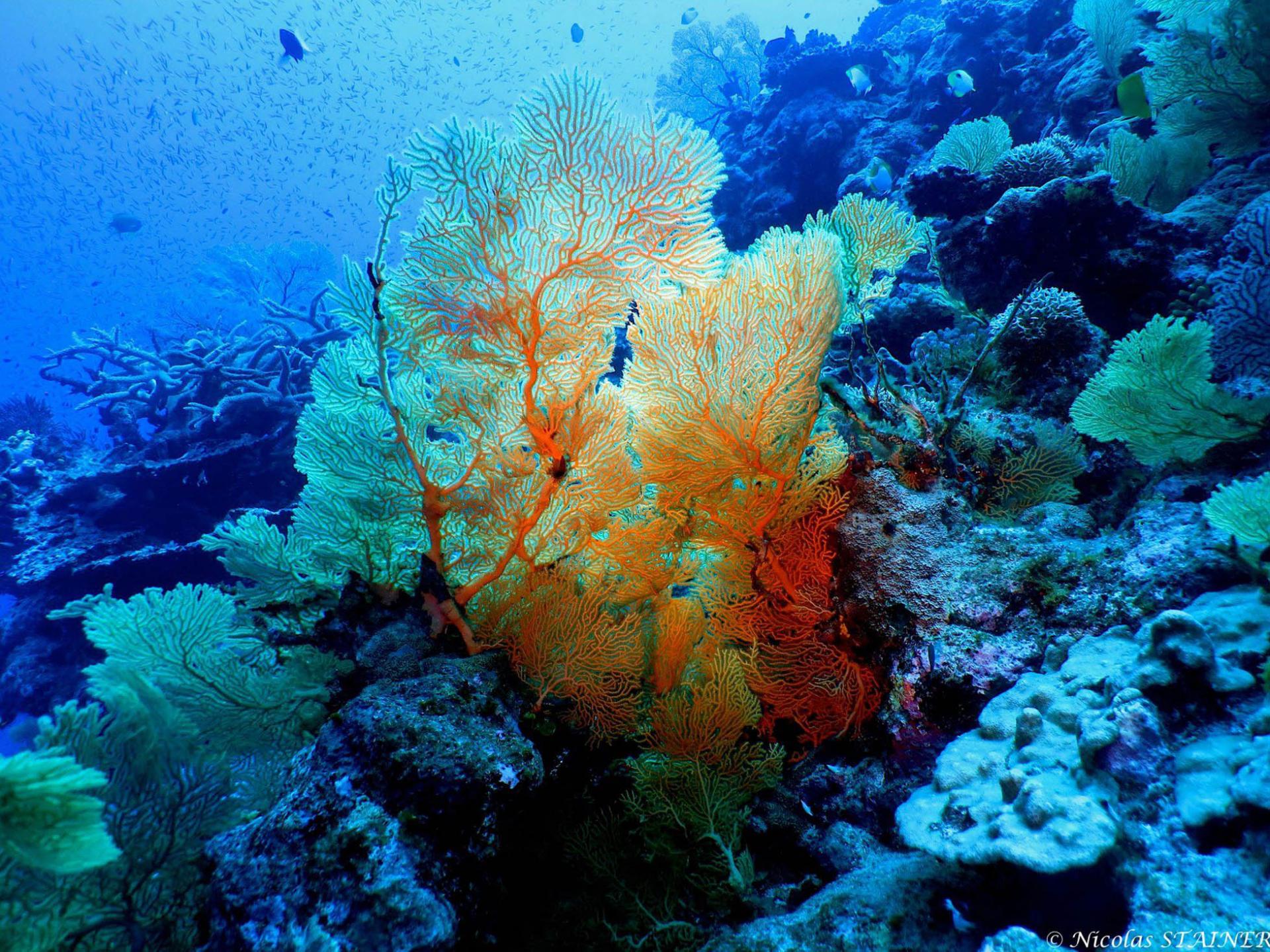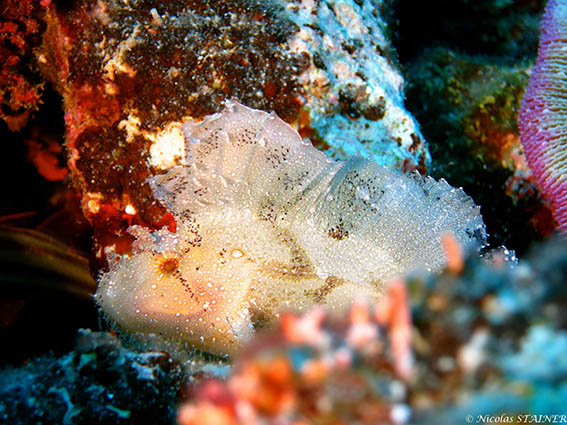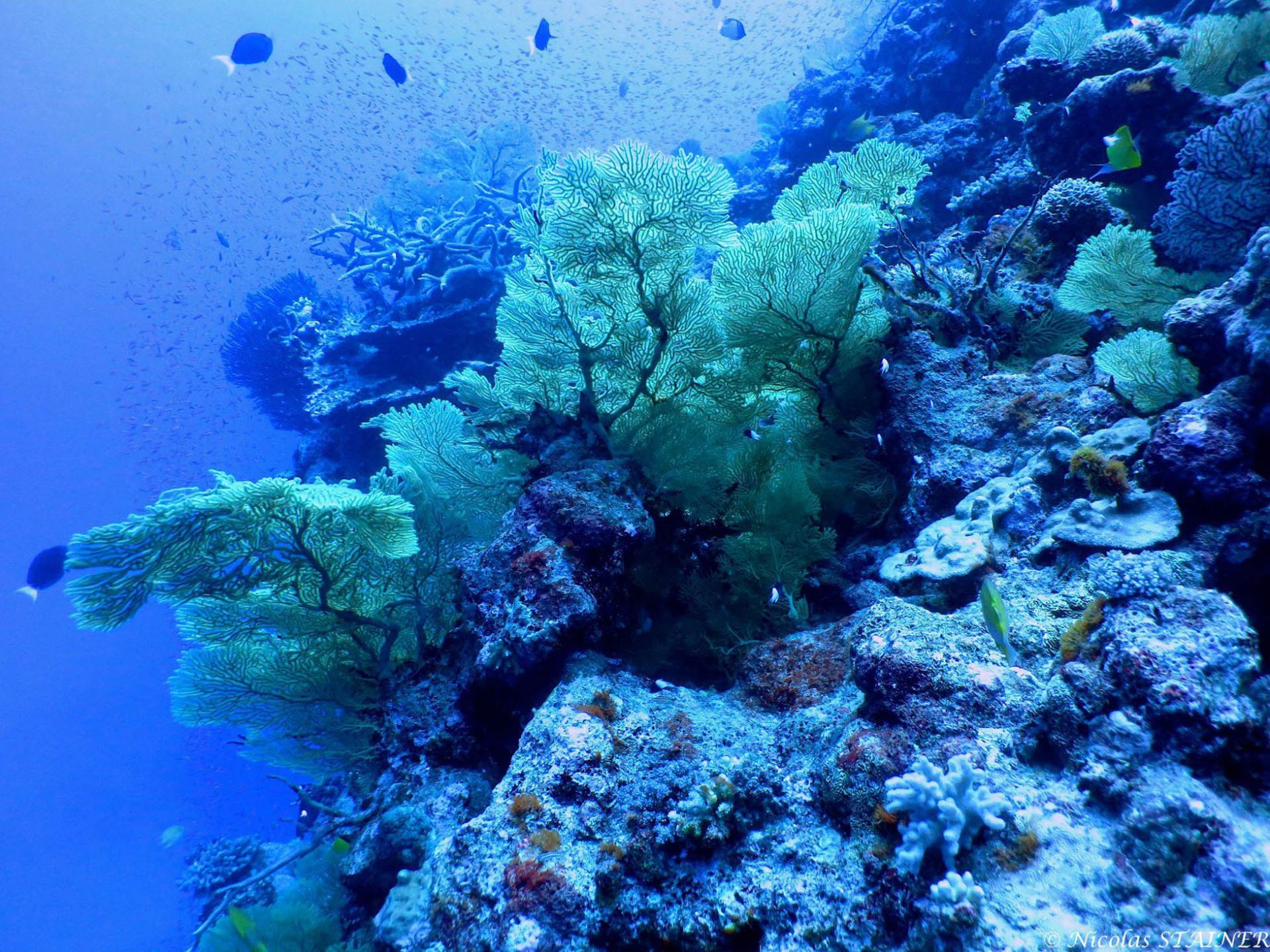 --- Acadro ou le Cap Martin ---
Laissez-vous guider le long du tombant à la pointe nord de la baie du Santal. Tortues, requins gris, raie léopard, raie mobula, thons à dents de chien peuvent croiser votre parcours. Un joli massif coloré de gorgones et de coraux mous, abritant de nombreuses loches et poissons-perroquets, nudibranches vous offrira un refuge dans le courant. La fin de plongée se fera à l'abri le long de la paroi du cap à regarder dans le bleu le passage d'un poisson pélagique.

Let yourself be guided along the slope at the northern tip of Santal Bay.

Turtles, gray sharks, leopard skate, mobula ray, dog-toothed tunas can cross your course.

A pretty colorful massif of gorgonians and soft corals, home to many groupers and parrotfish, nudibranchs will offer you a refuge in the current.

The end of the dive will be sheltered along the wall of the cape to watch in the blue the passage of a pelagic fish.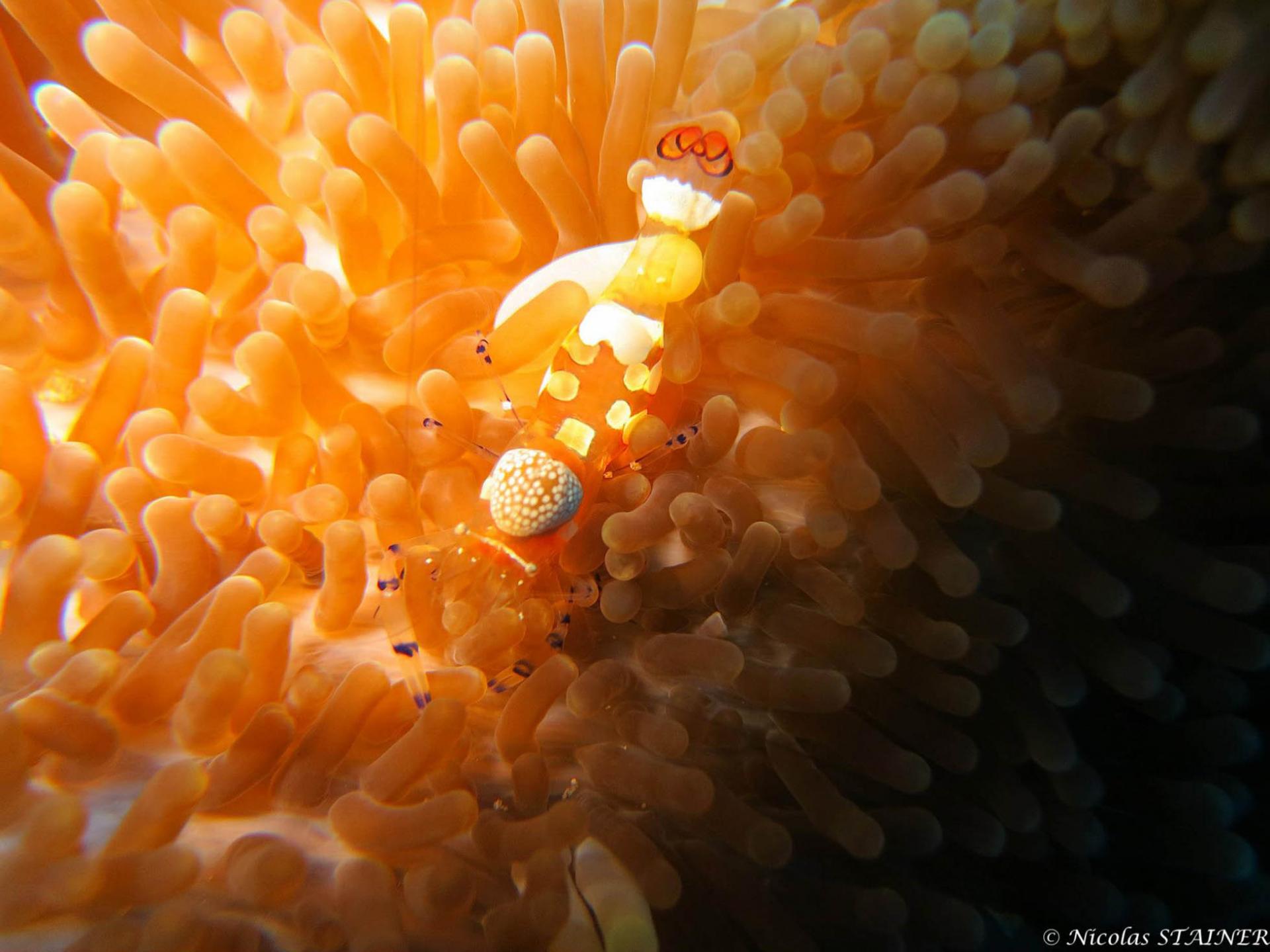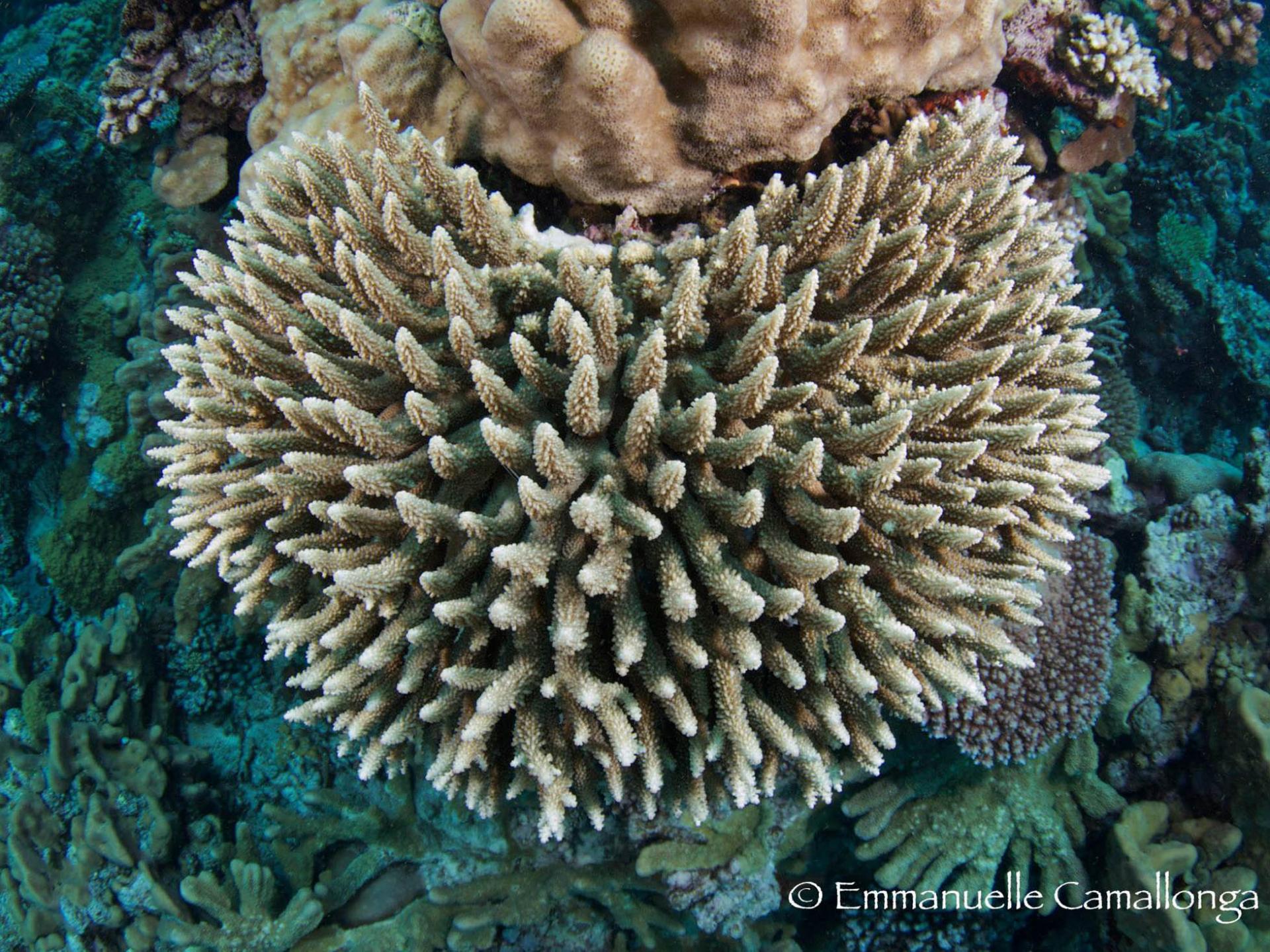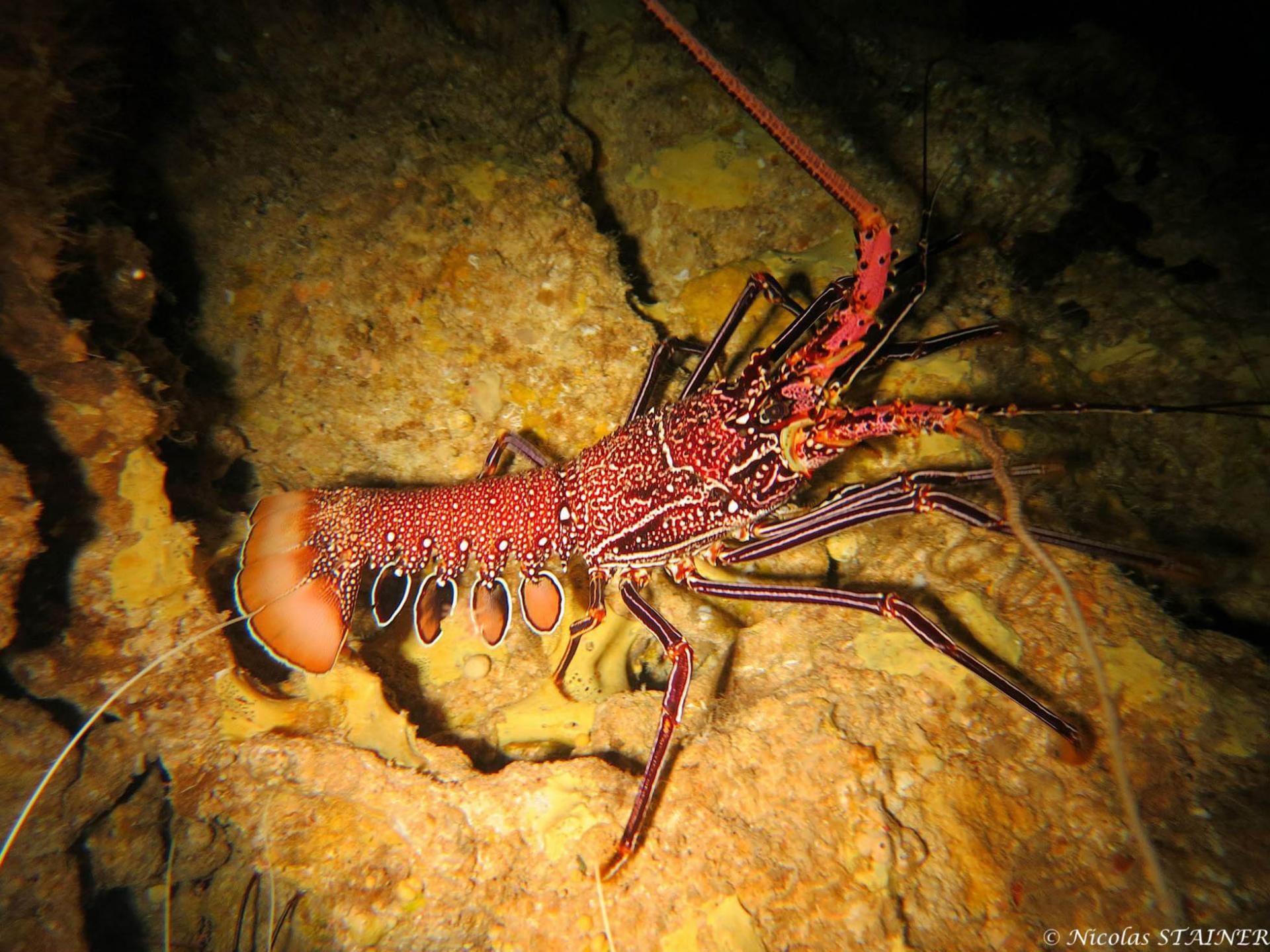 --- Les jardins de notre dame ---
Un énorme massif à l'extérieur de la baie de Jinek à proximité du Centre offre une diversité corallienne de toute beauté. Des massifs de coraux branchus, des tabulaires de grande taille ainsi que des coraux digitaux vivent là, à faible profondeur. De nombreux poissons-clowns ont élu domicile dans les anémones, raie léopard et requin-léopard peuvent y être également observés, ainsi que des bancs de jeunes calmars.

A massive massif outside Jinek Bay near the Center offers a variety of coral beauty.

Branches of branched corals, large tabulars and digital corals live there, at shallow depths.

Many clownfish are home to anemones, leopard and leopard sharks, as well as schools of young squid.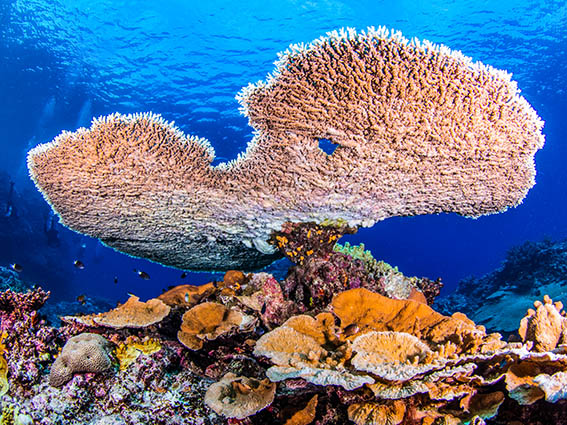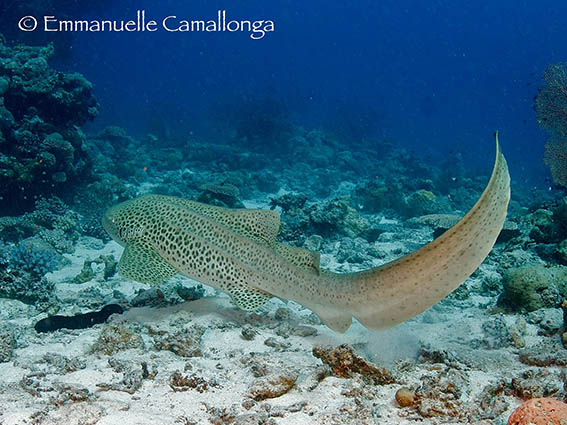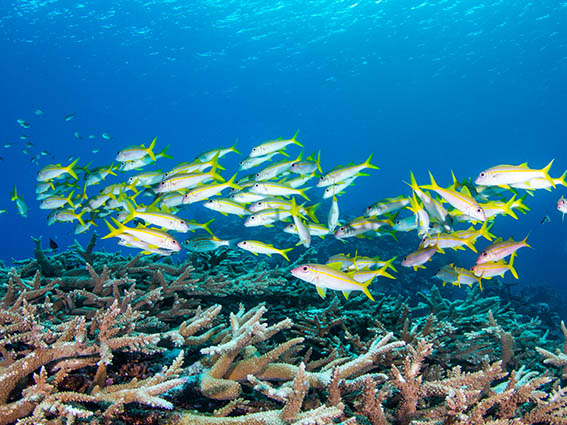 --- La baie de Jinek ---
[ uniquement pour les baptêmes ]

Véritable aquarium, accessible depuis le rivage, ce site est protégé des alizés. Départ tout confort à faible profondeur, vous pourrez faire de belles rencontres : tortue, carangue, requin corail, poissons clows, balistes, mulets.

Appréciable pour y faire des baptêmes de plongée, ce site permet de faire également des reprises plongées pour se remettre en confiance ou encore pour commencer les formations plongées en milieu protégé.

C'est un magnifique site pour la plongée de nuit où on peut y observer nautile, gorgonocéphale, crabes et porcelaines.

[ only for baptisms ]

A real aquarium, accessible from the shore, this site is protected from the trade winds. Departure all comfort at shallow, you can make beautiful encounters: turtle, trevally, coral shark, fish clows, triggerfish, mullet.

Appreciable for doing dive baptisms, this site also allows you to make dive recoveries to restore confidence or to begin diving training in a protected environment.

It is a beautiful site for night diving where you can see nautilus, gorgoncephalus, crabs and porcelain.